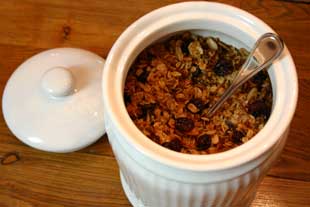 Farmhouse Granola


This granola is the best! We always have a supply on hand to be sprinkled over yogurt and berries, or my husband's favorite... in a bowl with cold milk.

4 CUPS old-fashioned rolled oats
2 CUPS sweetened, shredded coconut
2 CUPS sliced almonds
3/4 CUP canola oil
1/2 CUP good honey
Preheat the oven to 350 degrees.

Toss the oats, coconut, and almonds together in a large bowl. Stir together the oil and honey in a separate bowl. Pour over the oat mixture and stir until all the dry ingredients are covered. Pour into a large (around 13x18) baking pan that has been sprayed with PAM. Bake, stirring occasionally, until the mixture turns a nice, even golden brown, approximately 45-60 minutes.

Remove from the oven and allow to cool, stirring occasionally.

This is the base for your granola. Add dried fruit and/or nuts to make a granola just to your taste. Some suggestions include (my favorite) dried cherries, raisins, dried cranberries, small diced dried pineapple or dried figs, roasted unsalted cashews, chopped walnuts, the possibilities are endless! When fresh fruit I like is in season, I may choose to use the granola base without adding the extras. Each batch is a little different than the one before it.

Store in an airtight container. ENJOY!!